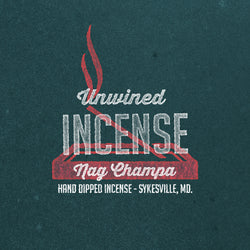 Incense - Nag Champa
Unwined's premium hand dipped incense sticks will leave your mind at ease and your space smelling fresh and renewed. Each package contains 15 sticks of incense. 
Nag Champa: Beautiful and Earthy, Nag Champa contains juniper, patchouli and vanilla. Rose, geranium and jasmine are also included to give this classic blend a sweet note. 
Real. Good. Incense. 
Hand dipped and packaged in Sykesville, Maryland.
Burn time: 45 minutes // 10.75" long