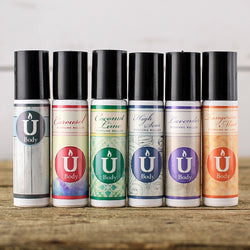 Unwined Body - Premium Roller Perfume
One of Unwined Body's newest products, our Perfume Rollers come in 6 amazing fragrances and contain Fractionated Coconut Oil, Grapeseed Oil with premium fragrance blends to leave you smelling fresh and your skin feeling nourished. Each roller contains 10ml of long lasting fragrance. 
Available Fragrances:
Carousel: A playful blend of Vanilla, Caramel and Cotton Candy with subtle hints of Bergamot, Raspberry and Fig for a scent that is whimsical yet complex.
Coconut Lime: Light and fresh, Coconut Lime is a zesty blend of Lime, Lemon Verbena and fresh Coconut. The perfect balance of citrus and sweet!
Lavender: Our classic Lavender scent is beautifully floral and light, known to relax the mind and body and promote calm.
Signature: Inspired by our best selling candle, Eastern Amber, Unwined's "Signature" Roller Perfume has a rich base of Amber, Vanilla and Sandalwood, that is livened up with subtle hints of orange, lavender and jasmine. This perfume makes an excellent unisex fragrance! 
Moonlight: With notes of black iris, cotton, old and vanilla, Moonlight is a unique unisex fragrance!