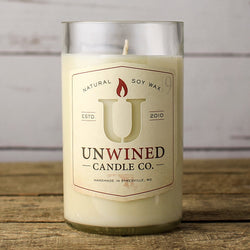 Freedom Soccer Club ~ "FURY2013" Fundraiser
The Freedom Soccer Club, team Girls 2013 Freedom Fury is raising funds for this season! Show your support for these hard working kiddos by purchasing these all-natural soy wax candles! These candles are available in our 12 oz. signature recycled wine bottle candles. Available in a variety of your favorite Unwined fragrances, proceeds from these candles will go directly to supporting the Girls 2013 Freedom Fury!! We (and the kiddos) thank you so much for your support! 
PLEASE READ THE FOLLOWING FOR ORDER/ DISTRIBUTION INFO:
** Please input code "FURY2013" into the coupon code section upon checkout (example image below) - this code will deduct shipping rates from your purchase/ it also gives the team credit for the order. After purchase, we will produce all of the fundraising candles and your team leader will contact you for on-field pickup dates times. ORDERS MUST BE PLACED BY 11/1/23. 

Thanks again for your support!
FRAGRANCES AVAILABLE:
Applewood ~ Apple / Orange Peel / Clove / Bourbon
Bourbon Butterscotch ~ Bourbon / Butterscotch / Whiskey / Vanilla
Eastern Amber ~

Amber / Bergamot / Lavender / Sandalwood

Firefly ~ Tropical Fruits / Exotic Greens / Wood
Humidor ~ Tobacco / Cedar / Sandalwood
Lavender Vanilla ~ Lavender / Vanilla
Pumpkin Pie ~

Cinnamon / Nutmeg / Pumpkin / Brown Sugar

Pumpkin Roll ~ Pumpkin / Brown Sugar / Cinnamon / Butter / Frosting
** Please select fragrance choice from the drop-down menu below.