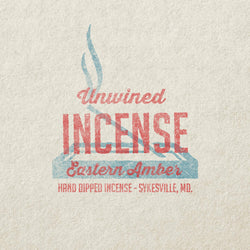 Incense - Eastern Amber
Unwined's premium hand dipped incense sticks will leave your mind at ease and your space smelling fresh and renewed. Each package contains 15 sticks of incense. 
Eastern Amber: Experience the enticing and complex aroma of Eastern Amber. Unwined's all-time best seller, this fragrance has a rich base of amber, musk and sandalwood that is livened up with subtle hints of jasmine, lavender and bergamot.
Real. Good. Incense. 
Hand dipped and packaged in Sykesville, Maryland.
Burn time: 45 minutes // 10.75" long